As a fundamental part of the lab, we participate in different events abroad to share knowledge and establish relationships with the main agents of the govtech field in the world.
The presence in these events is proving to be key for the positioning of Govtechlab Madrid at an international level. In addition to providing visibility to the lab, it allows us to establish relationships with key players such as other govtech labs, international organisations or digital companies. A valuable opportunity to share experiences, success stories and strengthen links that foster innovation in the public sector.
The focus on identifying and sharing best practices at international level shows that the same solution can be suitable in different municipalities, regions and countries. And that the potential for international scalability is possible. Especially spurred by the reality brought about by the pandemic, governments around the world are accelerating the digitisation and adoption of new technologies to provide more efficient management and better respond to the needs and demands of citizens.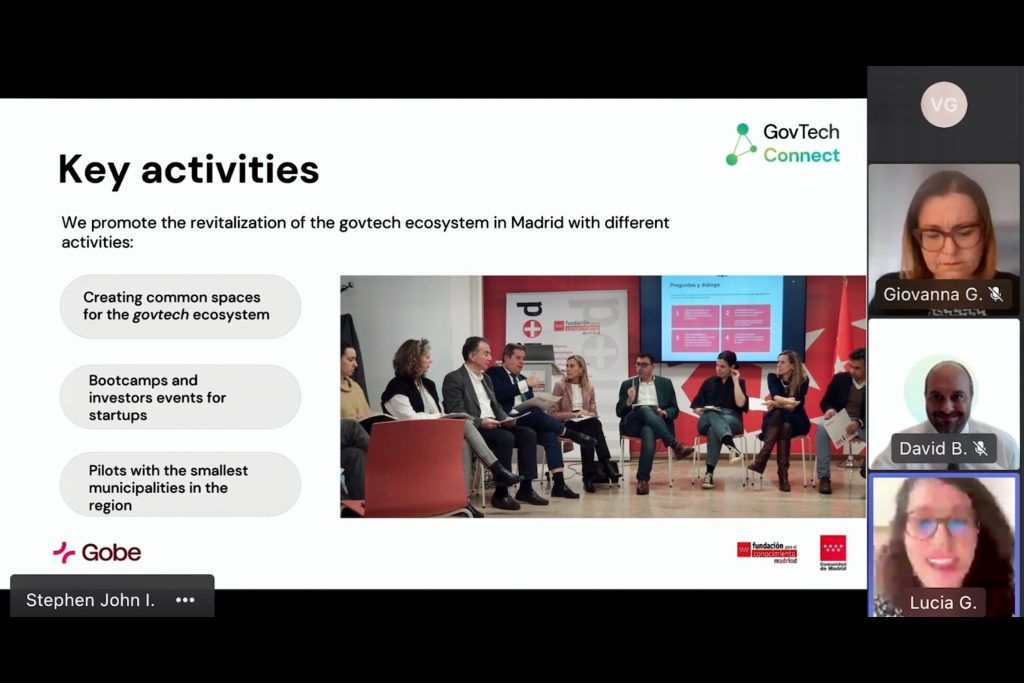 Among the various international events in which we have participated to date, we highlight:
We were an active part of the webinar launching the European Community GovTech Connect, an initiative driven by the European Commission to promote govtech ecosystems in Europe. In this online meeting, Lucía Errandonea, coordinator of Govtechlab Madrid, presented the project together with other European labs, such as GovTech Sweden, GovTech Lab Lithuania and GRNET – Greek Research and Technology Network.
Govtech4all – Brussels
The biannual meeting of the Govtech4all consortium, composed of 22 government agencies and companies from 15 EU member states with the aim of strengthening the single market for new govtech innovation models at the service of administrations. Idoia Ortiz, CEO of Gobe, participated on behalf of Govtechlab Madrid to establish contact with govtech actors of the consortium, both from Spain and other European countries, and to present the project, as well as to explore possible collaborations.
Govtech Leaders Conference – Vilnius
We were present at the Govtech Leaders Conference 2023, organised by GovTech Lab Lithuania in Vilnius, one of the most important events in the field of govtech in the region. During the conference we explored the role of govtech in the future of public administration, the capabilities needed for innovation in the public sector and the relationship between startups and the administration.
BID Forum – Colombia
This forum organised by tBanco Interamericano de Desarrollo (BID) stood out for its relevant govtech content agenda and served as a networking space with strategic actors of the govtech ecosystem. Idoia Ortiz also represented Govtechlab Madrid at the event with the aim of creating alliances in Latin America and raising awareness of our lab.
We will continue to explore new internationalisation opportunities and participate in relevant events with the aim of being a reference in the international community of innovation and technology applied to the public sector.